The Road Less Traveled
It's a hell of a thing, neglecting a weblog. It's also a hell of a thing leaving up a final post entitled Weiner Delight for a fortnight or so, but I suppose that's neither here nor there. The there, as it were, is my habituation to breaking and entering on this site, when I am roused to shame Key Monroe into posting.

I understand from the nomenclatura that she is busy, like a bee, completing her broker's course. Unlike the bee, however, I don't believe pollenation is involved. Or be it? I, for one, would love to be able to flit from social circumstance to social circumstance, my only legacy the sporage, the fecund inseminatuation I would achieve by dragging my legs all over every thing in sight, impregnating it. That is lazy sex, I tell ya. Leave it to the insects.

Velociman out, destroying friendships one post at a time. It's what I do.
Show Comments »
Chewy-Do Delight
This is Priss's baby, my first grandbaby with her new weiner chewy-do, which she found in her stocking Christmas morning.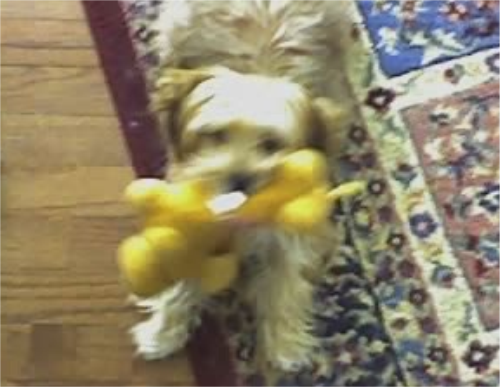 That is all. Just being a proud Granma-ma, showing off a pic. I know. Not in focus, but an honest depiction. She doesn't hold still, and is not much more than an orange fur-blur to us either, so best I could do.
That said...isn't she adorable?
(So what if my favorite area rug smells like pee-pee...)

Show Comments »