Loving Those From Other Lands
And offering equality and justice for all.
Tis beautiful, and many a friend I have had from other lands. They are currently feeling the fool, though, I'm sure, for their trouble. You know, getting a visa, learning the language... Apparently that is the more tedious option.
Many have found that it is far easier to cross the line, plant a biological seed, and demand not only amnesty, but a nationwide incorporation of a language that is not our own.
I can handle "pressing one" for English, I can handle hearing the Wal-Mart specials in English and in Spanish, but my God, is nothing sacred?
Of course I am aware that Spanish versions of the National Anthem have been floating around in small doses for a while now, so why is it that this latest version by Adam Kidron has "sparked controversy" as the media so poetically puts it?
I heard it this morning on Fox news. And I'll tell ya, hearing about it is not quite the same as hearing it. Debate. Justify. Play devil's advocate. Second guess the nausea as you wonder if you are supposed to accept what you are hearing.
How did that happen? How have we been led to believe for a minute that we are supposed to accept something so blatantly offensive? This is The Star-Spangled Banner, not only translated into Spanish, but also modified. Altered lyrics!
Just a little, though... In the name of solidarity! Of course. What else would we compromise our heritage in the name of?
Well, let's debate. Americans are debating. How nice.
There is a reason others are drawn to us. There is a reason we are strong. There is a reason we are proud, and there is a reason we are envied. All of that disappears as we slowly, robotically accept that compromising our most prized American institutions is the "right" thing to do.
Let's debate whether or not to interfere with the basic supply and demand structure as it pertains to the price of oil. Meanwhile, let us be outraged that someone is fucking with our National Anthem.
Concession: Yes, I know and appreciate the Presidential response to the "debate." And, admittedly, I preach to the choir here. As it should be. If you haven't written a post on this, don't let the fact that "it's been done" stop you. Our voices are heard.
Show Comments »
Good ol Rocky Top
My time has been divided of late, as I have been burning a 400 mile path between my home and the site of the new biz. And I must confess...
More than the land of that neverendering ditty, more than home of the baby-aspirin-orange tees, Tennessee has some of the most beautiful landscapes that I have ever laid eyes on: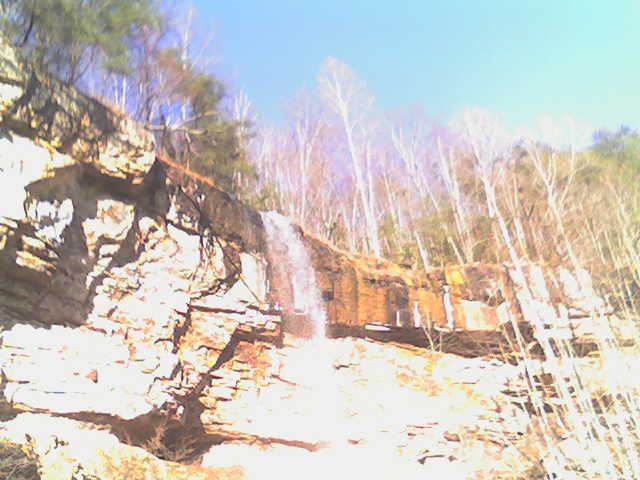 Scenery from the road, state Highway 111.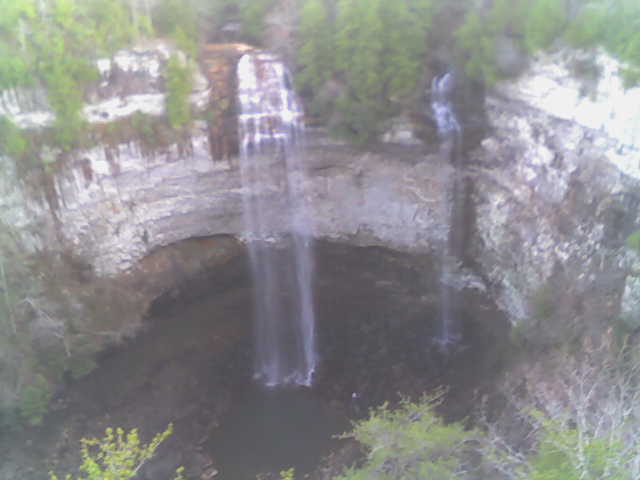 Fall Creek Falls, at 256 ft., that small white speck at the foot is actually a human.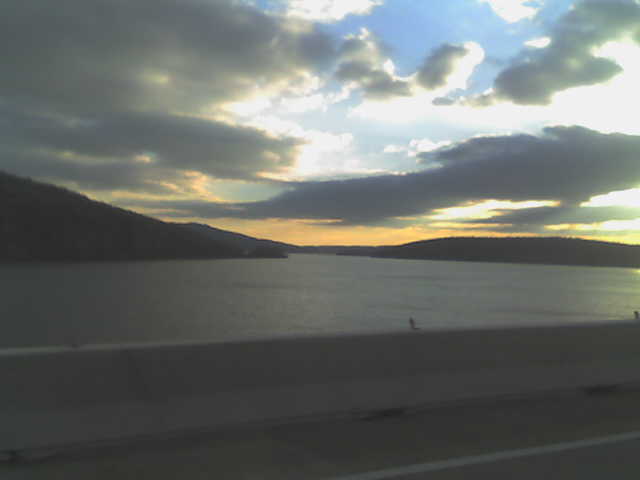 Nickajack Lake off I-24 heading into Chattanooga.
These are poor res, as they are just the cell shots. I have yet to extract the digitals. And even those could not possibly do The Lost Sea justice, but hey, you try taking pics of an underground lake.
In route to the Lost Sea, I was just a hop and a skip from the Straight White Stud-Muffin, and I was desperately tempted to pay a visit, shirk my biz responsibilities, see if I could get the locals to hang out at the tourist trap with me, but Shrek demanded that I focus. We did, after all, have work to do.
As we have gone "all eggs in" with this enterprise, and as my stress levels are reaching into the danger zone, I have adopted a new motto: That which doesn't break me will make me richer; getting there with sanity is gravy.
Show Comments »