Broken-hearted
We weren't without dog very long before my only child, with cabin fever, started begging me for a small, frisky pet of her very own.
This, of course, posed a problem due to my allergies.
Miss Priss asked for a ferret.
I said, "sure, honey, just as soon as you're old enough to live on your own..."
Stink-glands or no, those things are icky.
But...My mom, my aunt, and my grandmother all have Yorkies, swear they don't shed, and they are all absolutely foolish over these animals.
My delicate sinuses doubted though... So, if I were to offer the "puppy" compromise - bribe! - it must be as hypoallergenic as possible. Oddly enough, a little internet reading revealed that most of the major breeds are being mixed with poodles to produce hypoallergenic pets. I knew that, but I suppose I had conveniently forgotten.
I wanted to wait. Research more. But due to much begging, I reluctantly agreed to meet with a breeder, just to look around, and see what what this "Yorkiepoo" hybrid breed looks like.
And we came home with this sweetheart: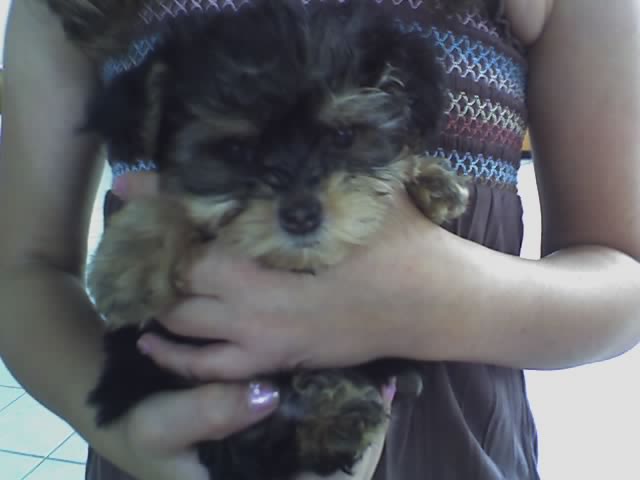 His name is Tate. And for the past three days he and Miss Priss have been inseparable. They bonded more quickly than I expected. And in the rare occasion that she has set him down for a moment, his little paws have been right on her heels.
Unfortunately, tonight he is fighting for his life. He was pitiful this morning, so we took him to the vet, tests were run, and x-rays revealed that he has a smaller than normal liver. He can no longer process glucose properly, and he is severely anemic as a result. He can't hold down anything, and his veins are too small for an IV.
We got a call from the vet tonight, and we have been prepared for the worst, but we will hope and pray for the best, and ask that you do too.
I just couldn't let this cute little guy come and go from this world without sharing his picture with a few friends.
Update: Little Tater didn't make it. He went into cardiac arrest this morning shortly after 9:00. Miss Priss wants to give him a proper burial, so we will be going by the vet this afternoon to pick him up. We are currently painting the little guy a headstone, which has actually been a great distraction for a mourning Priss. The breeder has contacted us, and is very sympathetic, and has offered Miss Priss the pick of the next litter. And she is grateful for that, but it just amazing how quickly she grew attached to this little fella's particular personality. (Priss is currently drowning her sorrows in popsicles.)