Deprived
This is my cousin's graduation. Great capture on my part, non?
All of the high schools in the Athens area make use of UGA's Stegeman Coliseum for graduation purposes. Therefore, it particularly took me back, as I graduated there on that same floor June 5, 1992. Two notable differences:
1. I was wearing red.
2. I didn't throw my cap.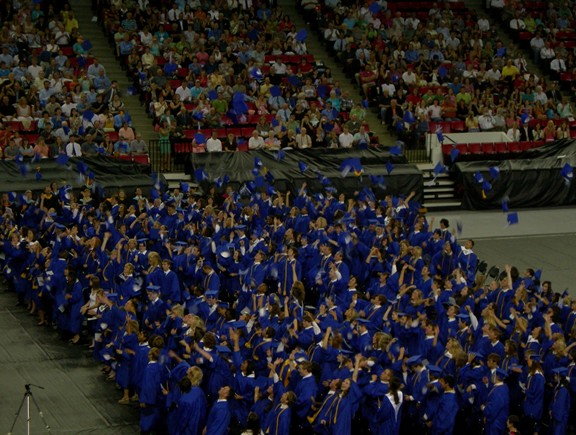 WTF? I didn't throw my cap. The finale did not happen. I did not get the closure. No icing on the cake. No completion. I have literally had dreams about being stuck in neverending high school, and yes, I do think my failure to toss is the culprit.
Why would I deprive myself of the final climax? It was pure evil.
The teachers, principalities, etc, etc, threatened us with all of their vested powers the eve of graduation, at rehearsal. If we tossed our caps, we would go to summer school, or we wouldn't receive diplomas.
Bs? Of course. But then, to us, they were serious, they meant it, and they had a history of making an example out of our class. They hated us, and some of us believed they wanted to further the persecution into the summer months.
So we caved to their bluff, and we didn't throw our caps. I held out hope, to the end. I spied the few rebels, the class skippers and top of hill smokers, who had made it to the graduation floor. They threw not. It was hopeless.
It was just too damned risky. It wouldn't have been the first time the admin made examples of us. You know, three days suspension for a simple off campus lunch, almost costing me my diploma, etc, etc...
They had dangled the diploma over us all year. We were at the end, we gritted, we bore.
And I? Left with no closure. Robbed.
Bastids.