Blogger Smilies
Okay, anyone who has been to dictionary. com recently has seen the new smilies. Am I the only one who is reminded of bloggers when I see these things?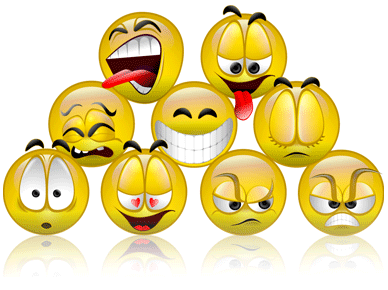 Let's do this left to right, top to bottom. First up, looking like he's getting ready to clean the wax out of a distraught smilie's ear, is Velociman. Next is Mr. Happy-go-lucky, my buddy Sammy baby. Receiving the Velocitongue as mentioned earlier, Acidman, who is still hungover from his week in paradise. Center stage with the shit-eating grin, my girl Kelley. Looking really disappointed with me because, although I adore him, I am a pain in his moderate ass, Jack. First up on the last row is a shocked Christina, after I told her what really goes on at the blogmeets. Love in the eyes would also be Acidman....last week. Looking incredibly distrustful is the man who will tell no one, even those he's met in person, his real name. That would be you, Dax Montana. Last, but so not least is sweet Eric, after a hard night of partying...
Damn. Out of smilies. The rest of you are granted a temporary stay of execution.