My Simple Life
Do not let the blogfaddah fool you. He is merely bursting with incestuous paternal pride.
I am but a plain and simple child, aging child at that, country when country wasn't cool...
See Exhibit "A." This would be the family and friends congregating at the folks' farm. Think we posed for that picture? Nope. We'd been sitting there on that porch all day, like good country folk. The thin layer of smoke in the air was either from the boiled peanuts or the low country boil...can't remember which one we had going on that day.
Front and center with gangly limbs, brown roots and ponytail would be your hostess. Yes, I know it's fuzzy. That is to obscure the faces of the innocent. (Or because I don't feel like re-scanning it.)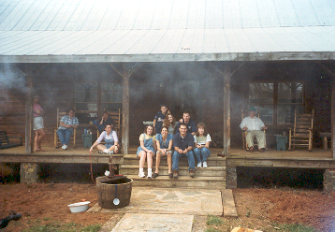 posted by Key on
04:37 PM
|
Comments (4)