Home Renovation Pics
As many of you know, I bought my home out of foreclosure four years ago. Someone was obviously pissed to have lost his home, either that or the place became a neighborhood hang out once it was abandoned.
Skylights and toilets littered the yard. The holes in the ceiling (where the skylights had been) allowed every season of weather into the living room. The half bath boasted the same purple carpet featured in the "before" pics below, along with mirrored tile walls.
As my husband was working full-time, I was the one with enough time on my hands to manage the subs for the project, so I made the executive decision to gut the place and basically start over. Nothing was salvageable save the oversized and elevated rock hearth surround on the fireplace.
I laid out the ideas to my main carpenter, and fortunately his back woods, misogynistic mentality only saw fit to question my judgment (by clearing something first with the husband) once. After that he called me "Boss." Okay, and as often, "Legs."
The project took four months. I loved every minute of it, and miraculously, stayed within budget, closing after renovations with an 80% LTV, meaning I (thankfully) MADE money on the upgrades.
Here are a couple of "before" pics: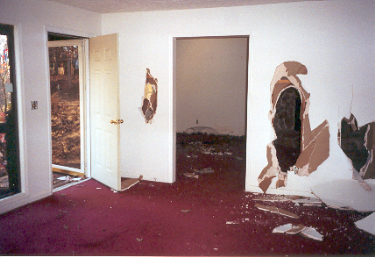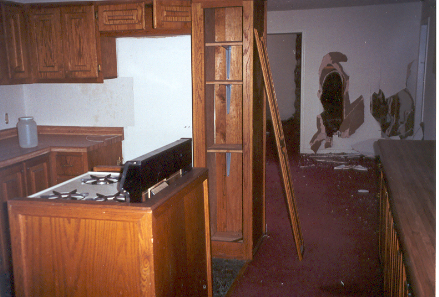 And the following "after" pic shows the same two rooms, but from the opposite angle: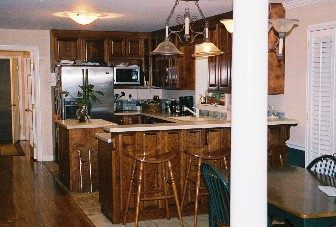 What you can't see is the left side of the kitchen, which includes a built-in desk (where I connect from home and bitch about my dial-up), several feet of countertop/cabinets and a pantry.
And I know, I have a crooked light fixture and a need for new light bulbs. (Or maybe the flaws aren't as obvious to everyone!)
I've been pleased though. And, of course, that would have to be my story either way, since I am responsible for the changes, but - this time - it also happens to be the truth.
A woman has to love her Kitchen...Real Estate 101.