So Sweet
As referenced in the comments of a recent Vdaddy post, several months ago Catfish gave me a picture of some handsome luvahs taken at the Athens mini-meet.
I emailed the pic to them, naturally, to get a courtesy permission to post. I never dreamed that they'd be so homophobic as to deny me the honor, particularly since one is a metrosexual and the other is well on his way.
Permission denied. Phobic bastids. What up?
But I respected their decision then, and I do still. No way I'm posting that pic until they are ready to come out, tell all. You guys take your time.
One more thing...
Are they not the cutest April Fools evah?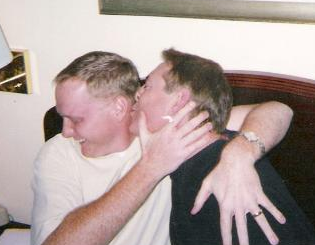 posted by Key on
03:44 PM
|
Comments (10)
»
Thunder And Roses
links with:
Cracker Gay redux