I've Been Here in Spirit
I'm still around actually... just puny.
You know how ya know kids are really sick when they make a face and shake their heads no when offered ice cream?
Likewise, you know that Key Monroe is really sick when she doesn't go online for several days in a row! Rather, I lay in bed all weekend cursing the name of the new doc I'd seen Thursday, who sent me home with an antibiotic I'd never tried before.
You know me - Pharmie! New drugs! Yeah, well, just so you know, Omnicef sucks. It befriended the bacteria growing on my tonsils, and enabled it to grow friends.
Soooo, yesterday when I revisited the clinic, and fortunately was assigned my tried and true doc, I had flaming red tonsils with a dozen pus pockets on each... An intriguing sight to behold, but for some reason, I couldn't psyche Shrek up for the viewing.
Anyway, doc sent me home with a ten day course of Biaxin, which we all know will get the job done, even if it does leave a coppery, crushed aspirin taste in one's mouth for the duration of treatment. I'm sick enough not to care.
I have been remiss as I lay wallowing. But I am pleased to see that my tagged newbies have participated in the reindeer games! Thank you to the lovely, overeducated cuz and to the unstable, orange lunatic for obliging.
I shall promptly return to my writing, just as soon as I can justify the further neglect of my biz-related responsibilities.
For your viewing pleasure, I have included a sick pic in the extended entry. Warning: Although this was taken 5 minutes ago, and is not nearly as nasty as it was yesterday (before I had started the Biaxin), it is still not for the faint of heart.
Hey, I warned you...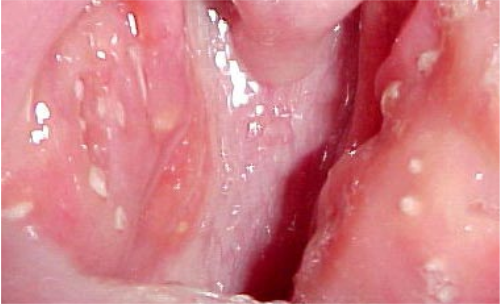 Mentions:
1. Yes Zonk, I am sick again.
2. Thanks to John, for teaching me something that all should know...how to spell "pus."
3. Thanks to my wonder-tonsil sister, for giving me the mahvelous idea to capture the freakish growths in pixilated format.
4. Thanks to Shrek for getting over himself enough to snap the shot.