Fingers Crossed
We are trying the puppy thing again.
As my readers may recall (all twelve of you), I relented to the begging of Miss Priss back in July, and we brought home an adorable Yorkie-poo. He was adorable, yes, but the runt of the litter no doubt. He was guinea-piggish in size, and unfortunately, due to having an undersized liver, the little guy didn't make it.
We were pitiful. But because the problem had been genetic, our breeder, full of that stereotypical Southern warmth -stranger to none, grandmother to all, seriously, a post within herself, Martha Stewart, only with Southern charm and a smile - well, she offered us pick of the next litter.
So...The past few months I have sweated this day. I mean, WHAT IF THE NEXT ONE DIES???!!! I just don't think Priss could take it again.
But the day has come. And our girl, Princess P, as we affectionately call our new little lady...Well, she is simply too cute for words, even if you are (like me) one of those crazy cat people.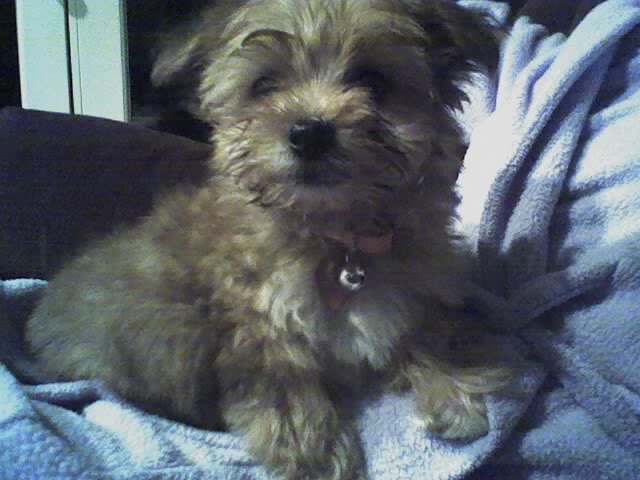 I gotta say, Priss and I have fought over the privilege of holding the furball, and if her appetite and size are any indication, she does seem to be rather hearty. Already twice the size of little Tater, Princess P has devoured her dinner, and is currently tugging at the gown of a very tired Priss, who underestimated the playful staying power of her new addition.
Heh. That's what she gets. (Priss didn't sleep a solid night til she was three.)
Anyhow, wish us luck with this one...