ATTENTION BLOGMEET ATTENDEES
This includes, but is not limited to the following:
Adam
Dax
Geoffrey
Gordon
My Suburban Date
Denny
Parkway Rest Jim
Acidman
Eric
Mamamontezz
Evil White Guy
and THE RINGMASTER
I regret to inform you that my dear friend and honey will be unable to attend...
The good news is that he must love you people, for he sends me bearing gifts for all! The following pic reveals the gifts UPS delivered to my doorstep last weekend.
I am told the mason jar contains genuine "Burns Blue, Beads Clear" East Tennessee shine, aged in the jar EIGHT years.
Sam's blog turns 1 year old at 12:01am Sunday, October 17th. He asks that we all raise a shot in celebration.
So, before you head out of town, do me a favor and go visit The Brier Patch to deliver thanks and congrats.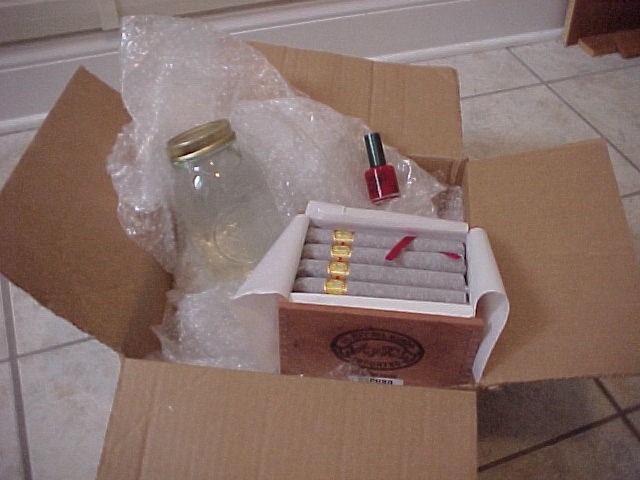 (BTW, I was going to be a rebel and show up with hot pink toes. However, this delivery puts me in somewhat of a quandary...)

posted by Key on
10:24 PM
|
Comments (15)
»
Dog Snot Diaries
links with:
The Great Yankee Invasion
»
Gut Rumbles
links with:
a minor correction
»
Dog Snot Diaries
links with:
Blogtoberfest
»
suburban blight
links with:
La Lista:
»
Mamamontezz's Mental Rumpus Room
links with:
Blogfest Update
»
Parkway Rest Stop
links with:
Blogtoberfest Begins Tomorrow!
»
The Brier Patch
links with:
Clarification