Whatever
McCaulay Culkin is full of it.
My guess is that he's not talking because in his little head whatever happened was consensual and private, and perhaps not at all inappropriate. Or he's too embarrassed to give it up. Or he feels that it would be betrayal of a friendship that he considered to be genuine.
Regardless of the reason, the boy ain't right.
He went from being the "the most famous and richest child star there ever was" to dropping off the face of the earth. A few roles, yes, but nothing like we thought we'd see out of him after Home Alone.
And a Hollywood star can weather a bad divorce and custody battle as we would a bad day at the office. So I'm not buying that as what broke him.
Then there was a wedding at eighteen, getting picked up for drugs, not to mention looking like complete hell in the arrest pic...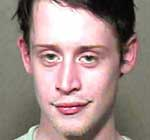 I'm sure by now Culkin means to put the past behind him, and hopefully get on with his career. Unfortunately, Hollywood is not that forgiving. He faded out when momentum was high, remained silent when reporters cared enough to ask, and now attempts to shake a stigma that is firmly in place.
My guess is that Jackson is not only guilty of molesting Culkin, but also wrecking the lively spirit that we saw, and only saw, in Home Alone. The selfish acts of one man very likely destroyed the career of another, and quite possibly any hope of a healthy relationship.
...unless he decides one day to grow up and deal with it. Clearly that day isn't today.
(Disclaimer: Yes, it has occurred to me that Culkin may be telling the truth. However, it is my opinion -and that's why I'm here by the way-, that he is not. I do not, however, demand that he is lying, as it is possible that he believes that he is answering truthfully. Regarding substantiation for my opinion... what do I look like a professional journalist? I don't need no freeeaking substantiation. I go on hunch. However, there is this.)